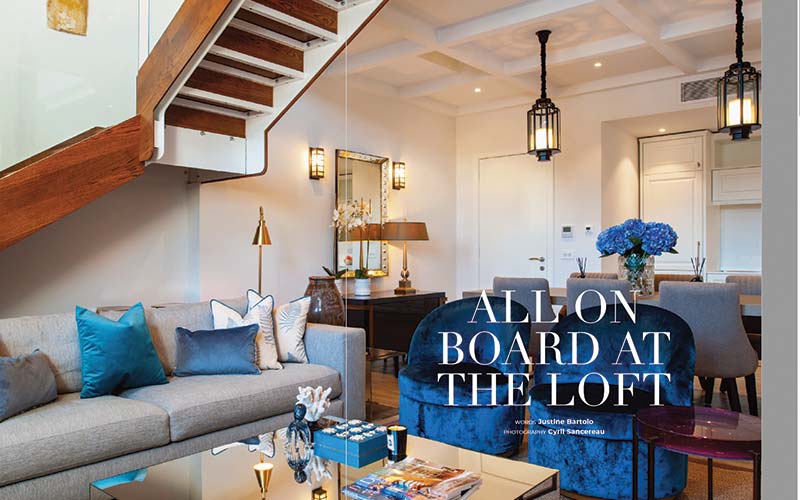 Interior Designer Kenneth Tanti meets Justine Bartolo from Design & Decor magazine.
This gorgeous space, a unique live-in loft designed by Kenneth Tanti at Tanti Interiors, consists of an old boathouse right across the street from a beautiful stretch of ocean, reflected in the design concept.

A large open space, high ceilings and stone arches grace the entrance. Here we talk to Kenneth about his ideas, design challenges faced and what he really thinks about velvet!

What was the initial idea about the layout for the space and how did you work at achieving it?
The idea came to mind to split up the height into two by building a steel structure to house a bedroom and bathroom upstairs. Making it look like one massive luxury hotel suite.

What design style would you say you've used in this project, as there is always a lot of questions about the true identity of modern or contemporary design.
The idea was to base the style on contemporary design mostly but I wanted to put in some classical and also marine oriented elements. That's our forte… mixing styles as though they were meant to be like that.

Did your clients give you direction on design for the space, or were you left to your own creative reign?
We were left completely with a carte blanche.

I noticed the use of velvet lately in a few projects both internationally and locally. Do you have any qualms about the fabric being used in our hot climate, or is it a complete misconception that velvet is a hot material.
I love to use many different fabrics within the same space. In this living room there is cotton/ linen on the sofa, rattan carpeting and then the velvet armchairs in question. I tend to use the more delicate / eye catching fabric on the armchairs which are used less or in a more caring manner than the sofa. However I still feel velvet does not make the space feel more wintery than summery… The place has a very sophisticated fresh air / cooling system anyway.

The use of colour is very strong in the open plan area, and the final result is gorgeous! What is the reason behind such a strong blue?
Wanted to bring in the colours from the sea and fishing boats across the street but in a chic manner… "Marine chic" maybe?

The home seems to have some classical artefacts, especially in the bedroom. How did you find working along such traditional bones of the house?
As I said, I love to mix classical and modern. I have been brought up in the world of the antique furniture trading business and also love modern. So the two come natural to me to mix and use together. However there is a fine line and the balance must not tip to one side!

What would you say was the most challenging part of completing this space?
Being one large space the most challenging part was getting all the workmen working together without shooting eachother. We had to meticulously plan the work schedule to make sure no one interferes with eachother.

The steel structure was another huge feat! We had to construct a free standing cage structure to then be hidden behing gypsum panels. Basically the whole top floor rests on a freestanding structure as the walls were not strong enough to take the weight.



Well we are absolutely in love with the final result and what's more, have learnt that Tanti Interiors have designed most of the carpentry themselves as well as handled the project till the execution phase using their own in house turnkey team. A job well done if we do say so ourselves!

WORDS Justine Bartolo
PHOTOGRAPHY Cyril Sancereau

About Tanti Interiors
Tanti Interiors offers home decoration in Malta and overseas and has a vast and distinguished portfolio of Home Design Projects, Gardens and Interiors & Exteriors.